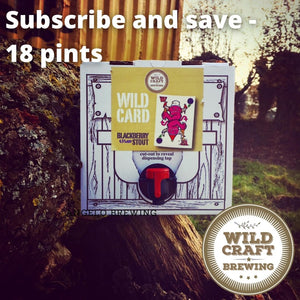 Subscribe and save - 18 pint Polypin
Subscribe to have an 18 pint polypin delivered to your door once a month or every 2 weeks and you can save 10% (money taken off at checkout).
As soon as we have processed your subscription, and each delivery after, we will send you a list of the beers we have available and you will be able to choose which you would like.
You will be able to control your subscription from your account area on the website by logging in at any time, this includes pausing and cancelling the service, which can be done at any time.
Wildcraft Brewery
£40.00
2023 Survival Box - Jan to Mar mini subscription
Help us to reach our target of 300, mini, 3 month subscriptions by the end of January!
Why are we doing this again? 2023 has been a tumultuous year. We have grown our turnover, expanded the brewery and now produce more beer than ever before but we are still facing the very real threat of closure.
We are not the only ones, in the past week we have had the sad news that 8 breweries we know have had to close their doors.
Why? Costs have spiraled this year, ingredients have doubled, energy is quite frankly ridiculous, staff costs have gone up and consumer spending has gone down.
How can you help?
We are looking to guarantee our business safety through the lean months of Jan, Feb and March and need your help to do so. We know times are hard so we have created different options that will hopefully allow access for all.
- Sign up to one of the the subscription options below.
- You will be charged on the 1st of each month for 3 months, and receive a box of 12 different beers in January, February and March.
- All beers will be gluten free and vegan.
- We may send some beers from specially selected friends to make up your 12.
- We WILL include some special, limited edition one off beers!
Wildcraft Brewery
£20.00